Overview
Freeware for Windows 9x/NT/2000/XP/Vista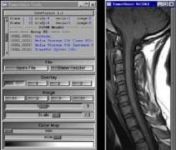 TomoVision
is a freeware tool for Windows allowing you to display a wide range of medical images.
TomoVision
is a very simple image viewer. It doesn't do much, but it can do it with almost any medical image format. You can see the
list of supported formats.
TomoVision uses the same conversion libraries as DICOMatic. It is designed as a compatibility test for DICOMatic: If you can see your image in TomoVision, then you can convert it to DICOM with DICOMatic.


And best of all, it all fits into 1 exec file. No complex installation or setup required. Just copy the exec file to your computer and click on it! All you have to do now to see your images is drag&drop them on TomoVison's window.

Image Gallery

Warning !
The TomoVision viewer should not be used in clinical applications!
If you need to see your images in a clinical setting, use DICOMatic to convert your images to DICOM. You can use any of a number of medically approved commercial products to display the images.